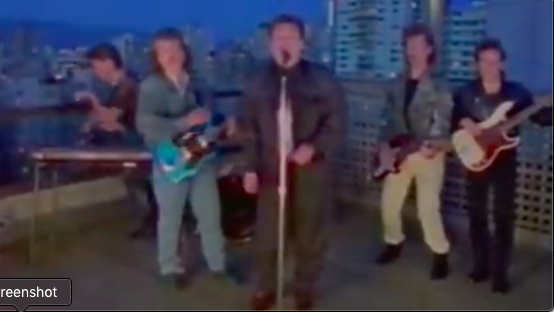 "That sexy guy mashing the keys & dancing on the rooftop? It ain't me – it's my good friend Leif Arntzen. As Hans describes, we shot most of the video geurilla-style, but I was AWL for the rooftop shot. I'd been invited to be best man at my best man's wedding in the Kootenays, and couldn't turn him down. Doug was irritated as usual about personal life (babies, marriages, funerals) interfering with his plans for the band, but I nominated my friend Leif as a stand-in. He's a good friend and fine musician – he played trumpet on Doug's solo album, and had put a horn section together for our gig at the Bottom Line in NYC the previous year. Leif was back in Vancouver, and happy to oblige. I loaned him my stage clothes (shades, underwear & shoes were his own) and the guys offered him expert choreographic advice:
'… to look like Si just stick your ass way out and dance like an idiot...'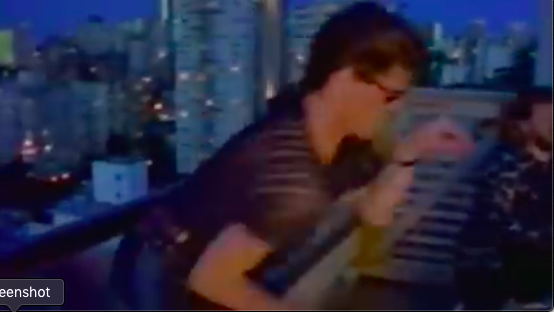 Suffice it to say Leif did a stellar job. I couldn't believe anyone was fooled, but for years people came up and complimented me '…you were so great in the Tomcat video!!' I hated to disappoint them…
I remember Doug describing his vision for the video as a good-natured sendup of a beer commercial – the myth of the happy working man at the end of his day,  just a little grittier & tongue-in-cheek. I loved how the various locations accepted us showing up and jumping into their work day. BTW – in Vancouver you can still see manhole covers and sidewalk grates with the 'TC' logo from the foundry where we shot this video in 1988."
-Simon Kendall, Doug and the Slugs
Thank you for commenting/reaching out to Doug And The Slugs on our 'Let's Connect' page!