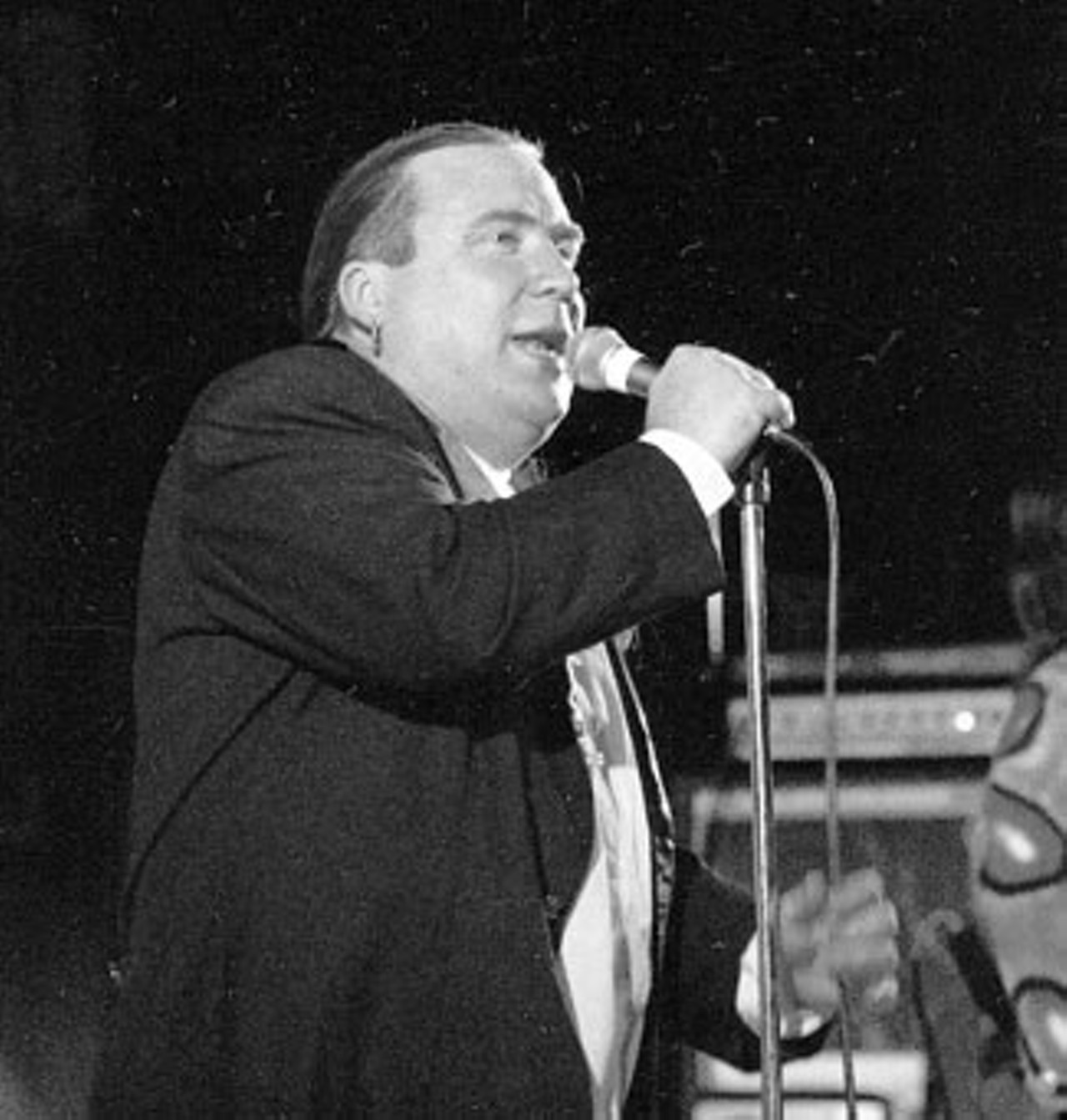 We were and are saddened by the untimely death of our main man Doug Bennett in 2004. In 2009 the 5 surviving original members regrouped with a new singer. We secured the blessing of Doug's family and after much discussion decided to keep the name. Hence, we continue as 'Doug and the Slugs'.
We are thrilled to have Ted Okos on board as our lead singer. He does not try to replace the irreplaceable Doug Bennett. Ted's respectful and considerate interpretations of Doug's lyrics and vocals are a vital component of all our shows. We are also grateful for his sense of humour!
We continue to play in remembrance of Doug, to honour his legacy and to bring our fans a live performance of the songs we recorded, toured and still love after all these years.
–  John Burton​, Wally Watson, Richard Bryan Baker​, Steve Bosley​, Simon Kendall​ & Ted Okos​
by Simon Kendall
Doug was the driving, creative force behind Doug And The Slugs. He was a maverick frontman, a unique singer and a surprising writer who challenged himself and those around him throughout his 27 year voyage with the band. He was something of a renaissance man: a graphic artist, cartoonist and closet songwriter who became a consummate performer while designing album sleeves and posters, drawing storyboards and directing music videos, acting in musical theatre and managing other artists.
Like many of us, Doug was also a bundle of contradictions: outrageous & abrasive/shy & considerate; shameless public performer/fiercely private man; foul-mouthed comedian/poignant poet. He was more sensitive than he'd ever admit, more thoughtful than you'd ever guess, and more stubborn than he knew.
Our recent re-launch of Doug And The Slugs has given me new appreciation for my old leader and frequent roommate: I marvel at his courage as a performer, the power and craft in his lyrics and his individuality as a singer.
It's rare that a day goes by without me thinking of him – sometimes laughing, sometimes cursing, sometimes wondering, always appreciating the legacy he left us all.
His absence is felt by his three beloved daughters, his wife, his siblings, friends, bandmates and by innumerable fans everywhere.
Thank you, Doug – we miss you.
by Steve Bosley
I have many fond memories of Doug. I took a lot for granted back in those days and it wasn't until they were over that I realized how much I missed him. Doug and I didn't always agree, but as time went on we came to understand each other and our friendship grew. I miss his cynical sense of humour and his laugh. Although he didn't always have the facts straight it didn't matter as long as he won the argument. For some reason, after the show people would ask if Doug and I were related. Doug would yell out "hes my son!!" and I would naturally agree with him, much to their befuddled looks. I'd start calling him "Dad" and the matter was settled. He was a firm believer in mischief and loved a good joke. The last time I saw Doug was in Halifax, six weeks before he passed away … we had a great time.
Now I see him (and the rest of the Slugs) in my dreams. Quite a lot actually.
by John Burton
I met Doug late one night at a party in Kitsilano in early 1977; I think it was January or February. I'm sure we were not introduced nor did we introduce ourselves; if we did we would have never remembered each other's name anyway. We were both pretty drunk and there was a piano there which I was playing and people would occasionally sing along. Doug was the most keen to sing. We did rather spirited, if wonky, versions of country and R&B songs we both knew. Doug struck me as quite fashion conscious, in a Vancouver Vintage Thrift Store Clothing kind of way, and his attire was quite natty in a Spencer Tracy Bohemian Used Car Salesman kind of way. Although younger than myself by a few months, I had him pegged as a man about 30, doing some job he hated, who had always wished he'd been a musician but had decided not to choose that path for one reason or another, and clearly had waited far too long to develop his musical skills to have any kind of legitimate shot at a career in music.
I felt rather washed up myself at the ripe old age of 25. I had done my four or five year stint as a bar musician and decided I was not going to bother being in any more bands that did not write their own material. I was thoroughly sick of playing half-baked covers of everything from Hank Williams to "Smoke on the Water" and this 'hack' at the party in his thrift store clothes was certainly going to be no help. I went off tree planting for the next four months (talk about 180). When I returned in July of 1977, a high school friend of mine, Dave Ball, who played bass, said that he and later-to-be-Slug drummer Wally Watson (another high school chum) had jammed with this singer/songwriter from Toronto named Doug, and thought I really should meet him. Both Dave and Wally had been very impressed and thought I would be also. As I had decided that I was not going be involved in anything but an original music project I was keen to meet the mystery man from Toronto. A few days later we set up a jam in a friend's basement and lo and behold, in walks 'the hack from the party' who was 'never going to go anywhere in the Music Business'. Somewhat skeptical, I waited for disappointment while Doug pulled out his Simpsons-Sears 'Elk' guitar and a small bottle of Cognac. He offered us all a swig and off we went into his songs.
The first song he played was "Westerly Winds", a rather poignant and bittersweet song about a brief love affair he had when he first moved to Vancouver a few years earlier. His voice was reedy and quite world weary, but there was, at the same time, a naïve innocence and vulnerability that could only come from someone who had not spent his life to that point as a bar singer. Despite the content of the lyrics, which were quite melancholic, the melody was upbeat and the song had a very memorable chorus, as well as an uplifting feeling about it, as if to say there is no joy without sorrow, but at least there is joy. This was the best song I had heard that was not already recorded by someone else. He had managed to capture very succinctly the experience of being a young man living in Vancouver in the 1970s, as probably only someone who had come here from Toronto might be able to do.
So much for my first impressions of Doug as a 'hack who was going nowhere'. We only went through about a half dozen songs that day, but each song brought a slightly different take on Doug's abilities as a songwriter and a singer. He had songs that were about living in Montreal and Vancouver, songs about the Maritimes, Toronto songs, and a country tune about "The Girl from the Washroom Wall", each poignantly expressing the lighter and darker side of the human condition from a distinctly Canadian point of view.
I had never heard anything quite like it, nor had I ever met anyone quite like Doug, which I found very refreshing at a time when most Canadian recording artists felt they would get nowhere if they did not somehow sound, look and act more American or at least more like someone else who was famous. Doug was exactly what I was looking for.
It turned out that he had over 30 songs already written and there were few bad apples in the barrel. Although only maybe 10 of these early pieces were recorded on Doug And The Slugs records during his lifetime, I believe they contained some of his best work as a lyricist and songwriter. Although he came on socially as a wisecracking, somewhat condescending, larger than life blowhard, these songs demonstrated a depth of perception, character, and sensitivity I have seldom come across in the people I have known.
He and I, over the next 15 years, were the best of friends, the worst of adversaries, and everything in between, but on a deeper level we understood each other musically and emotionally in a way that neither one of us was comfortable expressing or acknowledging except through the music we created. After the initial success of the Slugs, Doug and I were in a particularly adversarial phase; why he didn't fire me I don't really know, but I think it defines somewhat the unconscious bond we shared, and his depth of character as a man. If the situation had been reversed I would certainly have fired him. As a man to work with, he was probably the most obstinate, cantankerous individual I have ever known, and the most inspiring. He was also the type of man who would have given you the shirt off his back if he thought you needed it, regardless of being in an adversarial phase with him or not. He unfortunately was not the type of man who would express any kind of need to those who would have been willing to help him in his hour of need.
Tragically, I believe this was the root of his untimely death. He was probably the greatest Canadian entertainer of all time, and primarily worked in Canada. I think Doug was one the best Canadian songwriters of the last 40 years, if not of all time. He wrote about the Canadian experience as only few Canadians could have, or ever did, and deserves to be recognized for his accomplishments along with artists like Gordon Lightfoot and Leonard Cohen. Sadly he is not recognized with Canada's best in this regard, and I don't know why; perhaps because he never had a top ten Billboard hit in the US, although he had many top tens in Canada. Doug's presence on this earth touched many and spread a lot of joy, and the course of my life was profoundly changed by knowing him.
Farewell Doug, we all miss you!