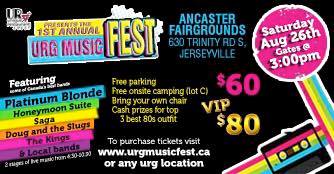 We regret to inform you we have CANCELLED this show due to emergency surgery of Ted Okos. He is now home, and getting better Day By Day! We hope to come back and play in your area ASAP!
At URG Music Festival
Tickets: www.urgmusicfest.ca
Venue Address: 630 Trinity Rd S, Ancaster, Ontario L0R 1R0
Headliners include: 

Platinum Blonde
Honeymoon Suite
Saga
Doug and the Slugs
The Kings. 
Also featuring performances by local bands.

Patrons will enjoy free parking, free onsite camping, and prizes for the best 80s costume.