In 1988 Doug asked if I would shoot the video for the single for the Slugs' next album, "Tomcat Prowl", which he would direct.
The video was shot guerilla-style over a three-day period. The idea was to show Doug working at various less-than-favourable jobs.  A band member knew someone who worked at a fish plant so we arranged to shoot one of the scenarios in their facility. With minimal lighting and a hand-held 16 mm film camera, we were able to shoot the sequence quickly with a minimum of disruption. The song was played back from a Sony Walkman in Doug's pocket to a set of mini headphones so he could lip-sync along.  All the audio was manually synced to the video at the editing stage as none was recorded on camera.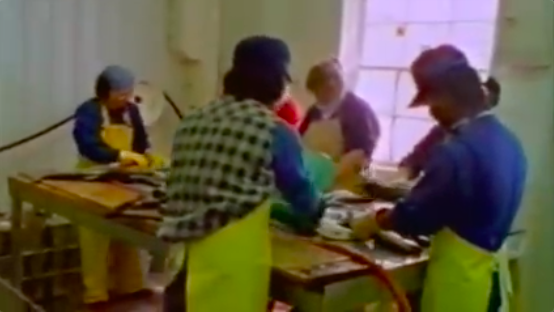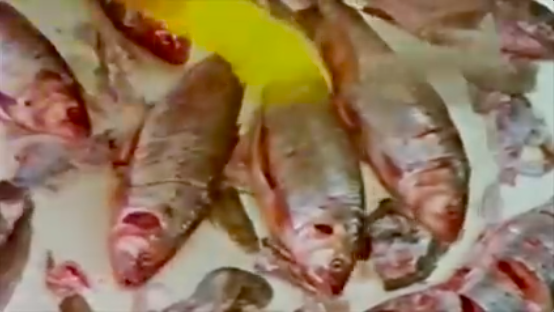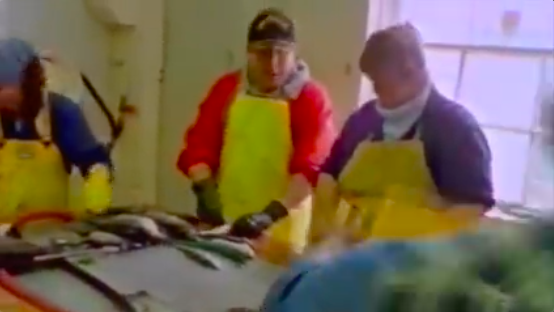 While we were shooting in the fish plant, members of the Slugs road crew went on ahead to ask permission to shoot at the United Poultry Company and Terminal City Ironworks, both in East Vancouver. (10 years later, that same foundry became a film set for several movies and TV series, including Dark Angel, Catwoman, Superman and, finally, Deadpool – before being torn down for a new development.)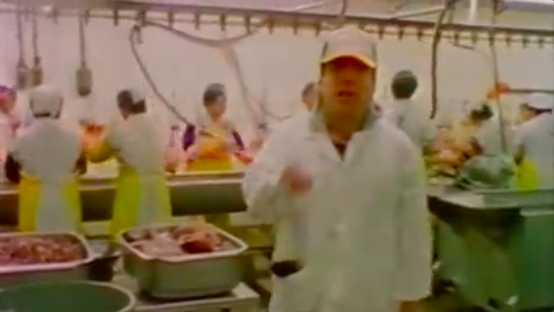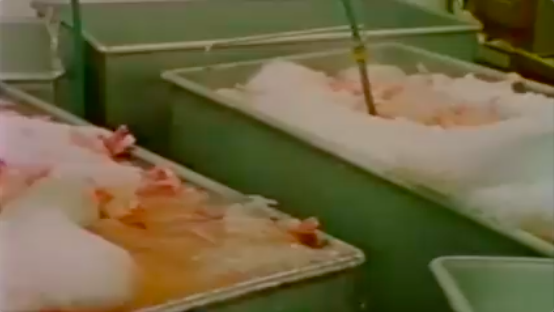 We wanted to shoot at the foundry while they were doing a casting pour, so Doug, Simon and I arrived at the location at the specified time.  I quickly set up a couple of lights and started filming while molten metal was being poured in the background. Doug and Simon wore borrowed coveralls and lip-synced to the pocket CD playback. To the workers watching, they were singing a cappella as no one else could hear the music track.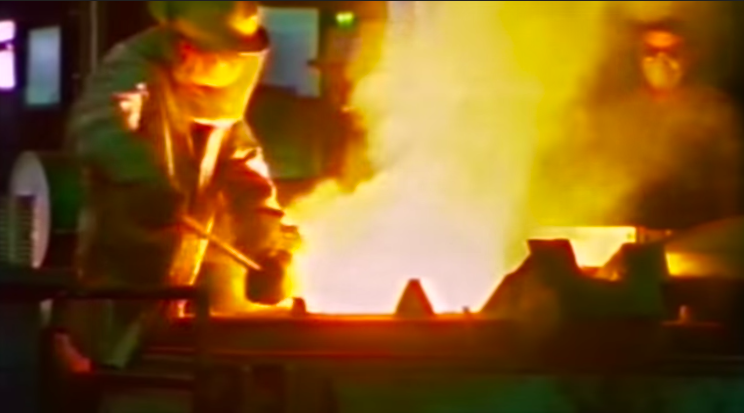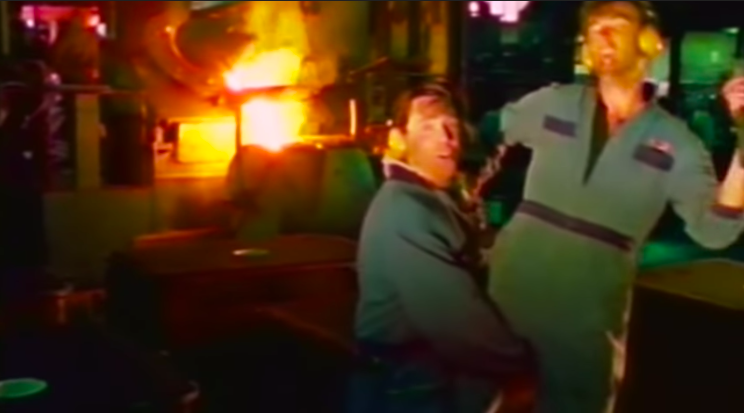 The rooftop scenes were shot at a penthouse in Vancouver's West End. The owner, who was then the proprietor of Speaker City, recently posted his recollection on YouTube:
"One day I got a call from a client of mine, the manager for Doug and the Slugs. He said, "I hear you have a cool penthouse overlooking the beach and looking out over the islands around Vancouver". I said "Well, yes".  He then goes on to say that he wants to film a music video and would I mind if they did some of the shoot on my rooftop deck, to which I replied "Well, sure, but when did you have in mind?".  He says "Tonight". "Tonight!!?"  I said "Well, OK, but I want you to put the mural that's painted on my retail store in the video. He said "No problem". It all worked out, and I was – and remain –  totally thrilled with the results."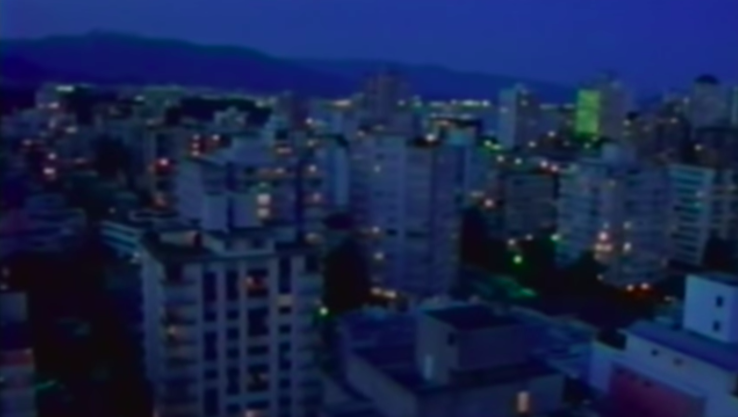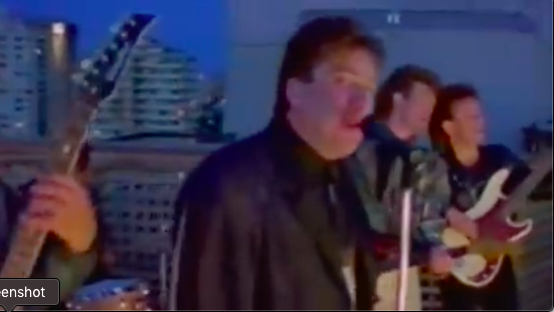 We shot a complete take of the song as the sun set over English Bay, and additional takes once it got dark. We had hoped to get the actual sun setting in the background but the clouds rolled in, so I added a little colour to the sky using a special filter. This time, playback was audio from a professional videotape player with time code displayed on a monitor. I would start by shooting the timecode and then swing the camera to the band as they started to lip-sync to the audio. That way it was easier to sync the sound to the film in post production. Simon Kendall was not available at the time of the rooftop shoot, so a good friend of his stood in for him. He was not only as tall as Simon, but knew how to mimic his mannerisms.  What ended up on film was a close, if somewhat exaggerated, likeness of Simon.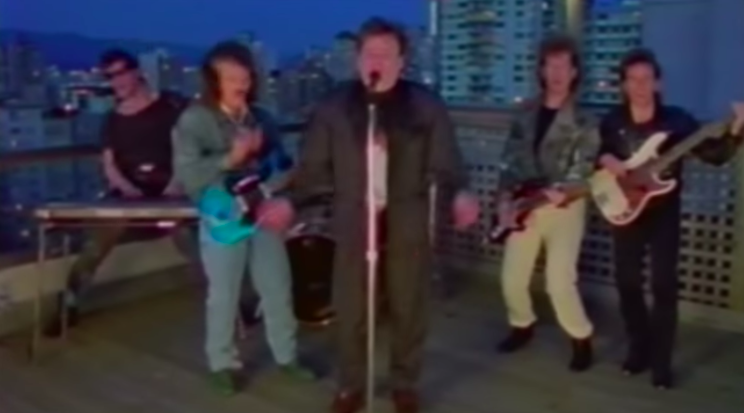 The kitchen scene was shot at the Steel Monkey club in Coquitlam. We filled the small kitchen with stage smoke and had the whole band dressed as chefs running around Doug as he sang.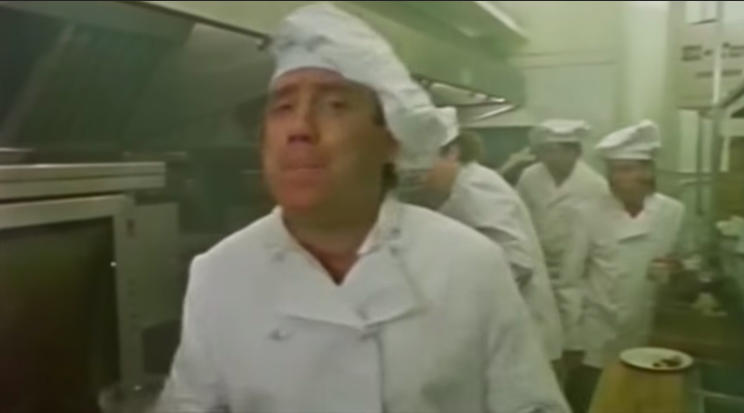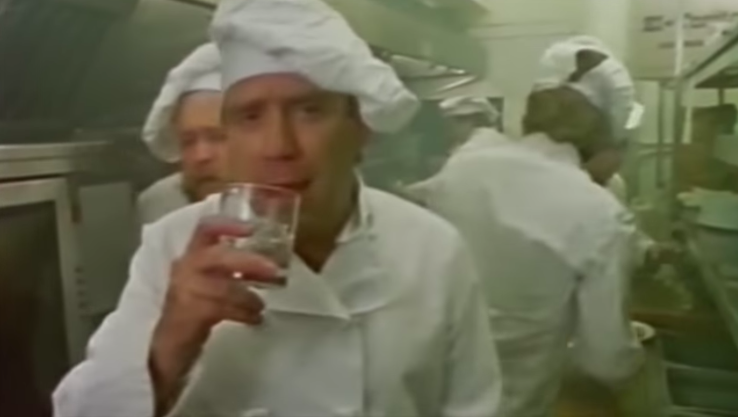 The guitar solo scene was filmed in front of the iconic Speaker City mural at West 4th and Fir, as agreed with the condo owner. John had no playback, but mimed his way through the solo.  The truck that stops in front of the camera with the guy waving was a happy accident.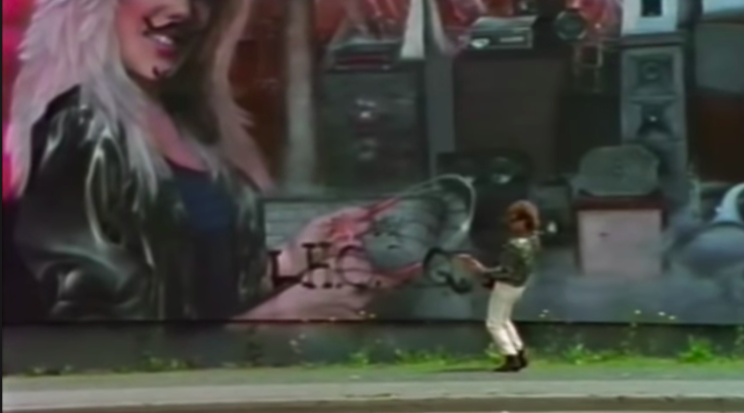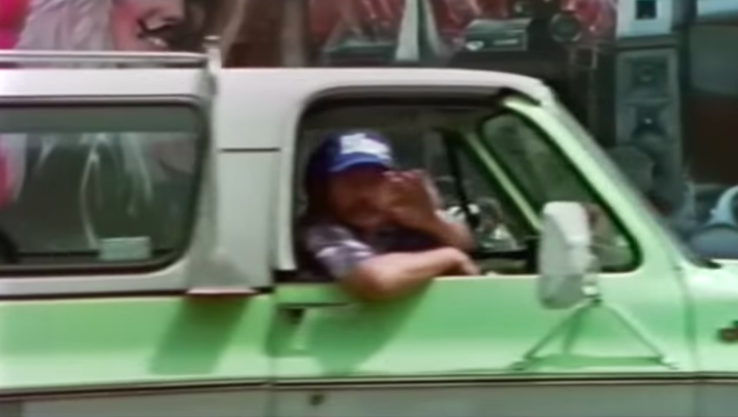 Doug worked with an editor to assemble the video so I didn't see it again until it was finished.  It was three long, intense days  of shooting, but I loved how it all turned out. All the on-stage footage was shot at the Steel Monkey during a live performance by Doug and the Slugs.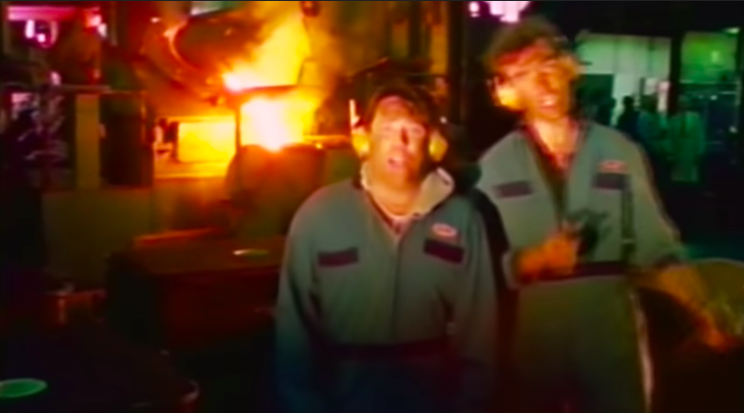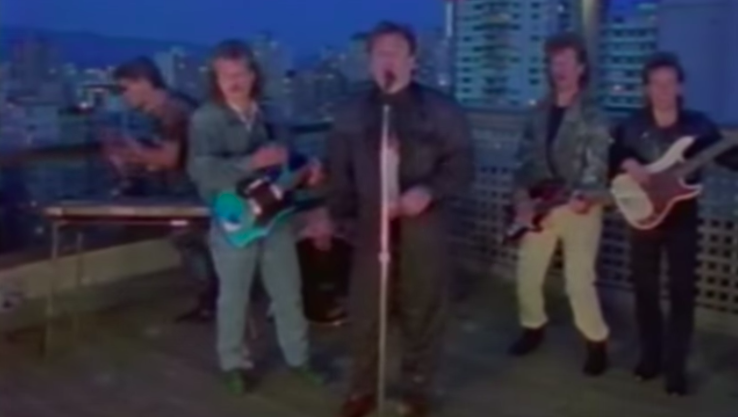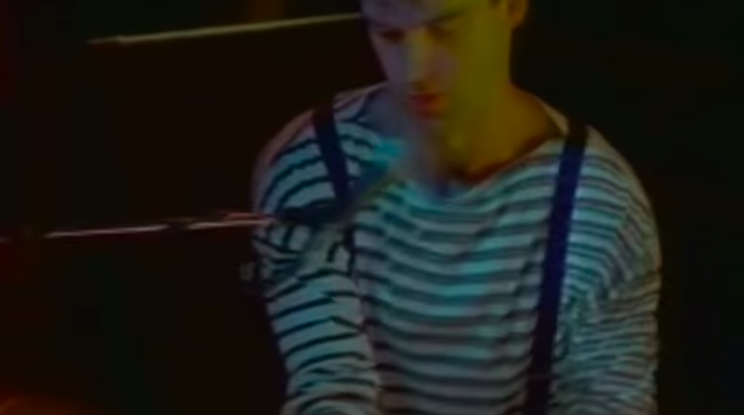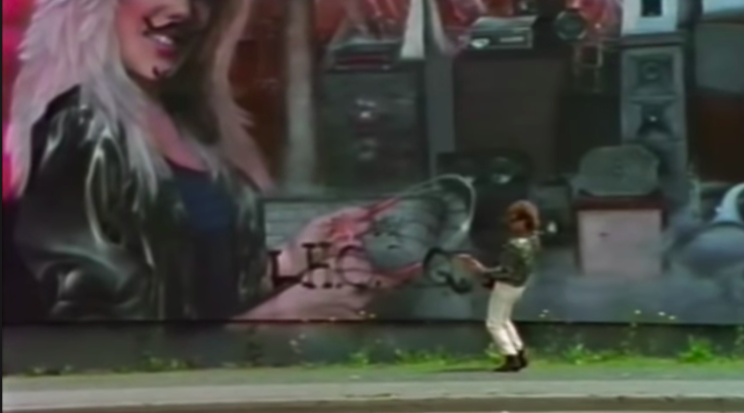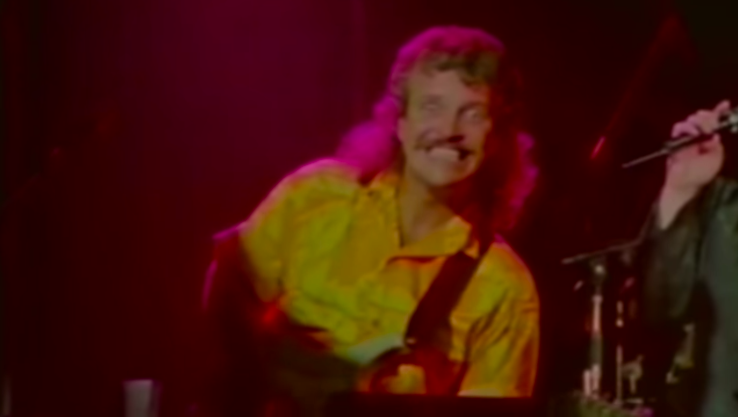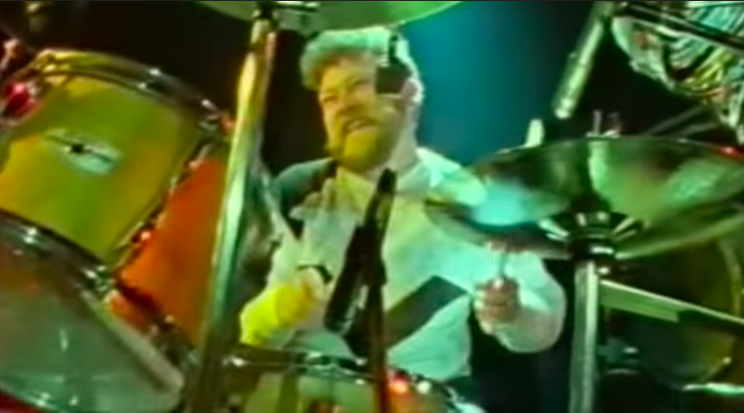 Hans Sipma, Professional Photographer and Videographer
Note: Screen shots taken in this post are amateur compared to Hans' work- merely to match images with story.
Simon 'Sez'
Comments by Simon Kendall of Doug and the Slugs
My secret is now out: That sexy guy mashing the keys & dancing on the rooftop? It ain't me – it's my good friend Leif Arntzen. As Hans describes, we shot most of the video geurilla-style, but I was AWL for the rooftop shot. I'd been invited to be best man at my best man's wedding in the Kootenays, and couldn't turn him down. Doug was irritated as usual about personal life (babies, marriages, funerals) interfering with his plans for the band, but I nominated my friend Leif as a stand-in. He's a good friend and fine musician – he played trumpet on Doug's solo album, and had put a horn section together for our gig at the Bottom Line in NYC the previous year. Leif was back in Vancouver, and happy to oblige. I loaned him my stage clothes (shades, underwear & shoes were his own) and the guys offered him expert choreographic advice:
'… to look like Si just stick your ass way out and dance like an idiot...'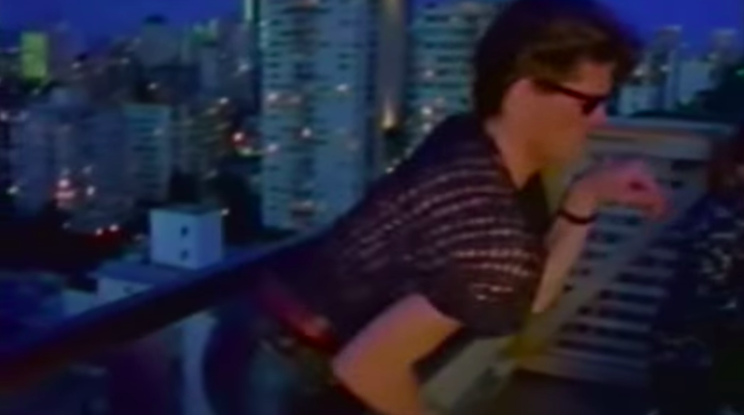 Suffice it to say Leif did a stellar job. I couldn't believe anyone was fooled, but for years people came up and complimented me '…you were so great in the Tomcat video!!' I hated to disappoint them…
I remember Doug describing his vision for the video as a good-natured sendup of a beer commercial – the myth of the happy working man at the end of his day,  just a little grittier & tongue-in-cheek. I loved how the various locations accepted us showing up and jumping into their work day. BTW – in Vancouver you can still see manhole covers and sidewalk grates with the 'TC' logo from the foundry where we shot this video in 1988.
Thank you for commenting/reaching out to Doug And The Slugs on our 'Let's Connect' page!