The last video I shot for Doug & the Slugs was for the single 'Terminal City' off their 1992 album, 'Tales from Terminal City' – the group's final album together.  Although all the Slugs were on the album the only original band members in the video were Doug Bennet, Steve Bosley, and Simon Kendall. Filling in on drums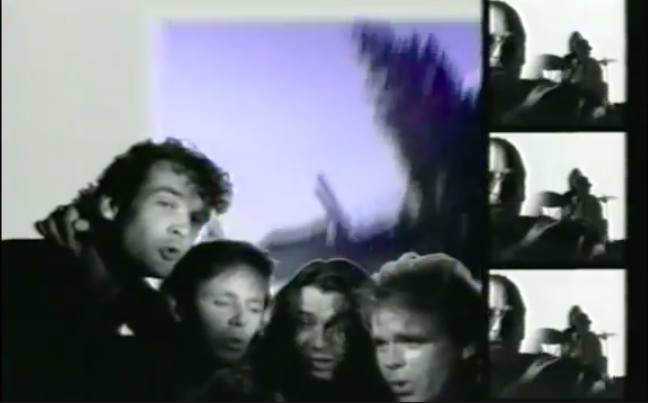 was Pat Steward of the Odds, and on guitar was Al Rodger. As well as playing on the album, Al was the recording engineer and co-producer with Simon and John Burton.
The video was shot over a couple of months using my personal Hi8 video camera – which gave me the luxury of time not possible with rented equipment. All the studio shooting, however, was done in one long session. The lighting of the band was purposely dramatic –  a white background, with patches of light on the faces and the rest in silhouette – to make up for the
lack of resolution of the camera. A hired dancer improvised to the music. To make up for the lower video quality of the Hi8, all the clips were reduced in size and assembled into a montage of multiple smaller clips for each scene.
The location shots were done all around Greater Vancouver: Square dancers at the Kitsilano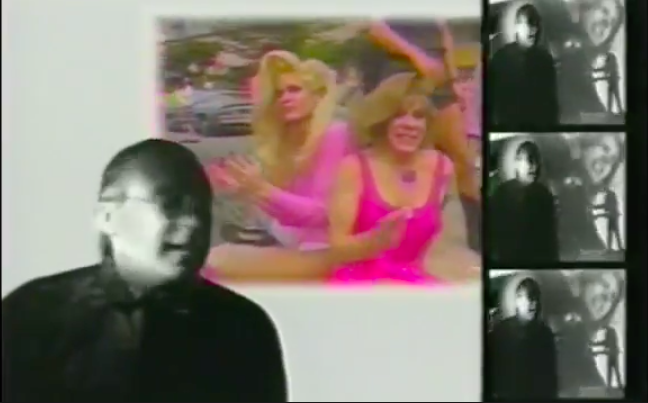 Showboat, the view from the front of the SkyTrain approaching Waterfront Station, beach activities, and so on.  With Doug driving his VW convertible Rabbit we shot scenes around Vancouver in day as well as the evening, Lion's Gate Bridge, and other iconic Vancouver sites. Unfortunately I was out of town for the Pride Parade, but Doug managed to obtain some footage we could use.
We also shot some scenes at the Illuminares Lantern Festival at Trout Lake. When the video started airing on Much Music, Doug was contacted by the organizers who felt we had co-opted their event for commercial purposes. I don't remember how or if anything was resolved in the matter.
The hippies dancing scene was shot in Simon's backyard and features some of his daughters and friends.
As with the earlier videos, Doug took the footage and sat with an editor to piece the many hours of tape into a coherent video that, like the song, captured some of the unique qualities of our Terminal City.
Thank you for commenting/reaching out to Doug And The Slugs on our 'Let's Connect' page!